FOOTBALL

LSU hired Steve Ensminger to coach tight-ends. Ensminger is a former LSU quarterback and was a long time assistant at Auburn under former coach Tommy Tuberville. He has coached tight-ends, quarterbacks, and has been an offensive coordinator at Clemson and Texas A&M.

While I was hopeful for a young, energetic coach who could hit the recruiting trail hard, I will take a wait and see approach with Ensminger. He has a lot of experience coaching offense in the SEC, and he has experience helping quarterbacks. If he can help Jordan Jefferson take the next step, then it will be tough to criticize the hire.


SPRING PRACTICE PREVIEW: DBs

Defensive backs coach Ron Cooper made great strides in his first season at LSU in 2009. By and large, the secondary played very well, and they were much improved over the 2008 group. LSU must replace free safety Chad Jones and cornerback Chris Hawkins. While the cornerback positions seem relatively locked down, the safety positions are up for grabs.


At one cornerback will be junior All-American
Patrick Peterson
(pictured). Peterson is the ultimate NFL cornerback, and he has everything you look for. Peterson seems to have a knack for making big plays as evidenced by his interception return for a touchdown against Mississippi State, his blocked field goal return for a touchdown against Ole Miss, and his interception that got stolen by the refs in Tuscaloosa. Peterson needs to be a bit more disciplined though. He was burned a few times in 2009 by gambling while looking for the big play or by being caught peeking into the backfield. LSU needs an All-American effort from Peterson in 2010.
While most thought that senior Jai Eugene would start at the other corner spot, he has apparently been moved to safety. The reason Eugene made that move is due to the impressive play of freshman
Morris Claiborne.
Claiborne impressed at fall camp last year and did so again during the bowl practices. Claiborne played special teams in 2009 and a little mop up duty at cornerback. We'll have to watch how he handles being the starter.
The big thing to watch at cornerback is how the backups look because with Eugene at safety, LSU has very little depth. The primary backups will be junior
Ron Brooks
and redshirt sophomore
Ryan St. Julien
. Brooks has a bit more experience, and he has played both cornerback and safety, in addition to special teams. Brooks has really excelled whenever he has been on the field. St. Julien primarily played special teams in his first season of action. He has good size, listed at 6'1" 180 pounds and as a former track star in high school, he's very athletic. These two will be looking to make a statement that they should see the field.
Reportedly, redshirt freshman
Drayton Calhoun
has moved back to defense and will work out at cornerback this spring. Calhoun has plenty of speed, and is 6'0". Once he acclimates to the position, the sky is the limit. We'll hope to see some progressoin from him this spring.
Walk-on
Daniel Graff
will continue to be a special teams standout while trying to earn some playing time on defense.
In the fall, true freshmen
Tryann Mathieu
and
Ronnie Vinson
will join the mix at cornerback.
Safety is a much bigger question mark.
Junior
Brandon Taylor
started most of 2009 at strong safety, and he played fairly well. Taylor finished the season with 41 tackles, one tackle for loss, and two interceptions. For the most part, he tackled well. I expect him to be even better in 2010 with a year of experience under his belt. He has to be considered a front runner for one of the starting safety positions.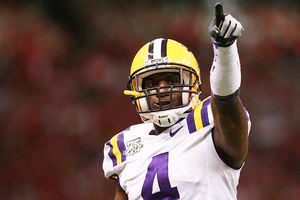 With senior
Jai Eugene
(pictured) moving over from cornerback, he should be in the mix for playing time. He's on the small side for a safety at 5'11" 180 pounds. As far as cornerbacks go, Eugene was a sure tackler and was pretty physical. He may be a pretty good fit at safety. What I'm looking to see is whether Eugene is at safety to stay, whether he's doing some training for a nickel back position, or whether he's just doing some cross training.
The guy I'll really have my eye on is sophomore safety
Craig Loston.
Loston came to LSU as the top rated safety in the nation out of high school, but a hand injury shortened his freshman season. He should be ready to go, and we'll have to see if he's ready to play a big role. Loston is 6'2" and around 200 pounds.
Junior
Karnell Hatcher
is another guy who has a lot of experience that will be trying to earn a starting position. Hatcher has great size at 6'2" 205 pounds and is a very physical player. He struggles a bit in coverage but is outstanding near the line of scrimmage.
Junior
Derrick Bryant
has been a good special teams player for his first two seasons, and he'll try to get into the mix at safety as well. Bryant has good range and is probably a better fit for free safety. He started his career at cornerback, and he may practice at both positions.
In the fall, true freshmen
Sam Gibson, Eric Reid,
and
Tharold Simon
will join the fold.
Depth Chart:
CB
Peterson (Jr)
Claiborne (So)
Brooks (Jr)
St. Julien (Fr)
Graff (Sr)
Vinson (Fr)
Mathieu (Fr)
S
Taylor (Jr)
Hatcher (Jr)
Loston (So)
Eugene (Sr)
Bryant (Jr)
Reid (Fr)
Gibson (Fr)
Simon (Fr)