Georgia went into the 2008 season as a favorite to win the national title and with a target on their back. They didn't handle the pressure of being "the hunted" too well, losing 3 times. More disturbing was that two of the losses were blowouts with defensive breakdowns becoming a common occurrence. Gone from the 2008 team are a pair of stars in quarterback Matthew Stafford and running back Knowshown Moreno...both first round draft picks. As usual, the Dawgs return a ton of talent and will have a very good football team.

OFFENSE

Any success Georgia will have in 2009 is dependent on senior quarterback Joe Cox. After waiting his turn for 3 years, DJ Shockley finally got his turn as a senior to lead the Dawgs in 2005. He had an All-SEC season and led the Dawgs to an SEC title. After waiting his turn for several years, senior Joe Tereshinki finally got his turn to lead Georgia in 2006. He was awful. Georgia lost four times including games to Vanderbilt and Kentucky. They ultimately turned the reigns over to true freshman, Matt Stafford. So what is Joe Cox going to do? I think he's going to remind people a lot more of Joe Tereshinki than of DJ Shockley, and I think Georgia will struggle offensively as a result. Cox is serviceable at best. Sophomore Logan Gray is the backup to start the season, and the coaches may turn to him if Cox struggles. Gray is more mobile than Cox and can make a few things happen with his feet. Georgia also has highly acclaimed true freshman Aaron Murray, who is the future for them at QB.

The next biggest question facing this team is who will replace Knowshown Moreno? Unlike at quarterback, the Dawgs have a wealth of talent to step in at running back. Caleb King was the star of fall practice a year ago and earned the backup role behind Moreno. He managed 247 yards and a 4.0 yards per carry average...adequate but certainly not great numbers. King was considered to be the favorite to begin the season as Georgia's starter, but sophomore Richard Samuel seems to have the upper hand right now. Redshirt freshman Dontavious Jackson will also be in the mix. A guy to really watch is true freshman Washaun Ealey, who could end up being the best of the bunch by mid season. Not only does Georgia have to replace Moreno, but they have to replace 4-year starter Brannan Southerland at fullback.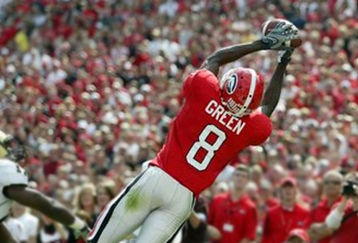 Sophomore AJ Green will lead Georgia's receiving corps this year after a sensational freshman season. Green is already a household name in the southeast and he is a future first round draft pick. But part of Green's success in 2008 was due to the receiver on the other side of the field, Mohammed Massaquoi. "Mo Mass" caught 58 passes for 920 yards and eight touchdowns. I don't think that production will be easy to replace, and I think it will lead to more attention being paid to Green by the defense. Combined with the uncertainty at QB, I think that's a recipe for a bit of a disappointing sophomore season for AJ Green. Senior Michael Moore will likely be the other starter and he caught a respectable 29 catches a year ago. One to watch is redshirt freshman Tavarres King.

After a few years of disarray on the offensive line, Georgia is set to have an outstanding group in 2009...maybe the best in the SEC. Trindon Sturdivant returns after being injured in 2008 and should be very good. Clint Boling is an All-SEC talent who should play right tackle. They return all their other starters, including Ben Jones who could have a breakout season. Georgia will look to lean on their line to lead the way in the running game to make things easier on Cox and the passing game.


DEFENSE

On paper, Georgia's defense looks to be outstanding but they still have some questions that need to be answered. Much like LSU, Georgia's defense underachieved in a very big way in 2008. They finished 6th in the SEC in Total Defense, but they struggled a great deal in their big games. Alabama scored 31 first half points against them and 41 total. LSU scored 38 points and racked up 497 total yards. Then Florida scored 49 points in an embarrassing loss in Jacksonville. Finally, Georgia Tech scored 45 points and rushed for 409 yards in another loss. Much like in Baton Rouge, the fans were not happy with the defensive coaching staff. But unlike LSU, the defensive coordinator was retained. So while the talent is evident, many questions concerning the coaching and the scheme remain.

Georgia's defensive line is very good up the middle. Extremely good. They have Geno Atkins, a future NFL player, at one defensive tackle and Jeff Owens who returns from injury but is an All-SEC caliber player himself. Sophomore Deangelo Tyson is also very good and he's just waiting his turn. He'll play some and they won't lose too much when he's in the game. On the ends, Georgia has some question marks. They don't have any proven pass rushers, and Georgia may have to blitz in order to get pressure on the quarterback. Senior Roderick Battle will likely start on one side. He has experience, but hasn't stood out at this point in his career. Sophomore Justin Houston seems ready to break out on the other side, but he isn't terribly experienced. Kiane Tripp and Damarcus Dobbs will also contribute.

The leader of Georgia's defense is linebacker Rennie Curran. He led the team in tackles last year with 115 and also notched three sacks and seven tackles for loss. He gets lost in the conversation of the SEC's top linebacker with Florida's Brandon Spikes and Bama's Rolando McClain but he deserves to be mentioned with those guys. Akeem Dent and Darryl Gamble return with a lot of experience and are very solid players. Sophomore Nick Williams moved to linebacker from safety and he looks ready to break out.


In the secondary, senior Reshad Jones leads the group. Jones is an All-SEC talent who had 76 tackles last year. Byran Evans will start at the other safety position. Georgia has a couple of small cornerbacks in Brandon Boykin and Prince Miller. Quinton Banks and John Knox will lend depth at safety while redshirt freshman Sanders Commings could breakout at corner.

Georgia has a difficult non-conference schedule with road trips to Oklahoma State and Georgia Tech while hosting Arizona State. I don't see Georgia seriously contending for the SEC East title, but an 8-4 or 9-3 season seems likely.

All SEC Candidates:
WR AJ Green
OL Trindon Sturdivant
OL Clint Boling
DT Geno Atkins
DT Jeff Owens
LB Rennie Curran
S Reshad Jones

Schedule:
@ Oklahoma State (L)
vs. South Carolina (W)
@ Arkansas (L)
vs. Arizona State (W)
vs. LSU (L)
@ Tennessee (W)
@ Vanderbilt (W)
vs. Florida (L)
vs. Tennessee Tech (W)
vs. Auburn (W)
vs. Kentucky (W)
@ Georgia Tech (W)