FOOTBALL

Just some quick notes as the team continues to prepare for Washington:

Despite some reports over the weekend that freshman safety Craig Loston has been academically cleared by the NCAA to participate, nothing is official yet and Loston still isn't with the team. This will come down to the wire but Les Miles remains "optimistic."

Apparently, freshman fullback Dominique Allen is a bit heavier than the coaches would like. He's up around 270 pounds and they'd like to see him play at around 250 or 255. So while he seemed a lock to receive playing time as a true freshman, he may not see the field this year until he gets to a reasonable playing weight. Walk-on fullback James Stampley continues to draw positive reviews and may be the guy to beat at the fullback position. Stevan Ridley will also get looks there, in addition to tailback.

Sophomore Brandon Taylor continues to work with the starters at strong safety, and it looks like a solid bet that he'll be the #1 guy against Washington. Karnell Hatcher is also doing well and pushing Taylor. Ron Brooks is working at cornerback again.


True freshman Morris Claiborne (pictured) is working with the second unit at cornerback and appears to be the team's fourth corner behind Patrick Peterson, Chris Hawkins, and Jai Eugene. So after 15 practices, he appears to have passed Brooks, Derrick Bryant, and Ryan St. Julien on the depth chart. That speaks volumes and the kid seems to be a future star.

Freshman Russell Shepard is seeing practice reps all over the field. And while Shep is making lots of noise, freshman quarterback Chris Garrett is quietly turning lots of heads.

Les Miles continues to point out freshmen defensive ends Michael Brockers and Sam Montgomery. Those two are making a big push for playing time ahead of redshirt freshmen Chase Clement and Chancey Agahyere.

FLORIDA PREVIEW


The Florida Gators enter the 2009 season as the consensus #1 team in America and the favorite to win the SEC. They aren't just chasing another national championship, but they'll be playing for a place in history as one of the best teams of all time. It won't be easy though. No team has won consecutive SEC titles since Tennessee in 1997 and 1998.
Incredibly, all 11 of Florida's defensive starters return from last year. And if that's not enough, all 11 of the backups on defense return too. Needless to say, the Gators will be tough to score points against. Super quarterback Tim Tebow is back for his senior season and with another Heisman Trophy or national championship, or both, he'll go down as perhaps THE greatest college football player of all time. While Florida has a whole lot going for them, they're not without some question marks. First, offensive coordinator Dan Mullen is gone to lead Mississippi State's program. With someone else calling the plays, will their offense be the same? The Gators also have to replace Percy Harvin, who was the best multi-purpose threat in the nation. He led the Gators in receiving and was 2nd on the team in rushing. He was the difference maker for them in a number of games, including the BCS Title Game.
OFFENSE
I could tell you all about Tim Tebow, but you probably know everything already. 64% completion percentage. 2,746 yards. 30 TDs and just 4 interceptions. 673 rushing yards and 12 more rushing touchdowns. He's the most valuable player in all of college football. Florida also has pretty good depth. John Brantley, Tebow's backup, was impressive when called upon last year. He also threw for 265 yards and three touchdowns and ran for two touchdowns in Florida's spring game.
Florida's running game will once again come from many sources, one of which is Tebow. The Gator quarterback will be counted on in short yardage situations, and he's always a dangerous threat to run when a passing play breaks down. A pair of small speedsters, Chris Rainey and Jeff Demps, will get a ton of carries from spread formations. Each guy had over 600 yards rushing in 2008. They'll also use Emanuel Moody, a bigger more traditional back, who had 424 rushing yards last year. He'll be utilized more this year. Freshman receiver/runner Andre Debose will likely run the ball on pitches and reverses too.
Though the Gators lost their top two pass catchers from last year, they have a number of talented guys ready to step up. Sophomore Deonte Thompson is poised to break out while senior Riley Cooper will be steady if nothing else. Their leading receiver may be tight end Aaron Hernandez who is utilized in a number ways. Hernandez caught 34 balls a year ago with five touchdowns. Carl Moore, David Nelson, and the aforementioned Debose will also be involved.
Like every other position, Florida will be very good on the offensive line. They're led by twins Maurkice and Mike Pouncey who play center and guard respectively. Both guys could find themselves on some All-SEC teams this year. Former defensive lineman Matt Patchan will play offensive tackle.
DEFENSE
Florida has some serious talent along the defensive line, especially at defensive end. Junior Carlos Dunlap is poised to have a monster season. With Mario Williams-like size at 6'6" 285 pounds, Dunlap is as physically gifted as any defensive lineman in the nation. He recorded 9.5 sacks last year. On the other side is Jermaine Cunningham who isn't shabby. Cunningham had six sacks in 2008. The Gators don't have the star power at defensive tackle, but they do return experience. Look for Omar Hunter to make a bigger impact this season.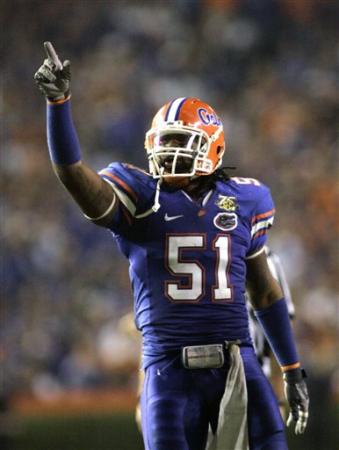 An insanely deep linebacking corps returns to lead the defense with All-American Brandon Spikes (pictured) being the headliner. Spikes passed up a sure first round selection in the NFL Draft to return to Florida. He led the team in tackles last year with 93. He also recorded two sacks, six tackles for loss and four interceptions. Ryan Stamper and AJ Jones will flank Spikes. Brandon Hicks and Dustin Doe also have a great deal of experience. True freshman Job Bostic has drawn rave reviews from practice thus far and could see some playing time as well.
Florida's secondary is very good and very experienced. Junior Joe Haden is entering his third year as a starting cornerback. On the other side, sophomore Janoris Jenkins looks like he's about to put himself among the elite in the nation at his position. Juniors Ahmad Black and Major Wright will be at safety and both are All-SEC quality. Sophomore safety Will Hill is too good to keep off the field, and he'll play quite a bit.
Most of all, Florida once again has defensive coordinator Charlie Strong calling the shots. While Urban Meyer, Tebow, and the offense get all of the headlines, Strong's defenses have been among the nation's best since he's been in Gainseville.
All-SEC Candidates:
QB Tim Tebow
OL Mike Pouncey
OL Maurkice Pouncey
DE Carlos Dunlap
DE Jermaine Cunningham
LB Brandon Spikes
CB Joe Haden
CB Janors Jenkins
S Ahmad Black
S Major Wright
SCHEDULE
vs. Charleston Southern (W)
vs. Troy (W)
vs. Tennessee (W)
@ Kentucky (W)
@ LSU (W)
vs. Arkansas (W)
@ Mississippi State (W)
vs. Georgia (in Jacksonville, FL) (W)
vs. Vanderbilt (W)
@ South Carolina (W)
vs. Florida International (W)
vs. Florida State (W)