In the crazy world of recruiting, things change in an instant. This is often magnified during the final week before National Signing Day. LSU is still sitting with 24 verbal commitments, and they're looking to add a few more before Wednesday.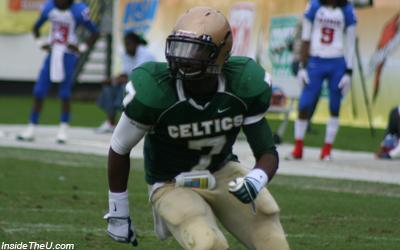 Florida wide receiver
Kadron Boone
(pictured) is visiting LSU this weekend. In my opinion, Boone is the most likely of LSU's remaining targets to ultimately sign with LSU. A former Texas Tech commitment, Boone started exploring his options once head coach Mike Leach was fired. A native of Florida, Boone is very familiar with LSU receivers coach Billy Gonzales, who coached at Florida since 2005. That relationship will help LSU quite a bit. Combined with LSU's need for receivers in this class, I'd be surprised if Boone didn't end up a Tiger after this weekend.
Things were looking good with Shreveport receiver Jarrett Fobbs after he took a visit to LSU last weekend. LSU looked to be in great shape despite Fobbs being a Texas A&M commitment for several months. But yesterday, news leaked that Fobbs was taking an official visit to Texas A&M this weekend. That's obviously not a real good sign for LSU, and it's clear that Fobbs is struggling to come to a decison. LSU coach Les Miles visited Fobbs Thursday night, but it still appears that Fobbs is visiting College Station. Fobbs' father is supposedly a big LSU fan while his mother supposedly favors Texas A&M. This one will likely come down to the wire.
LSU wanted to bring in Evangal wide receiver Eric Thomas for a visit this weekend. After originally scheduling the visit, Thomas now appears headed to Southern for a visit. Thomas has good size at 6'2" 200 pounds, and he was ridiculously productive for Evangel this season. He had 11 catches for 104 yards in the state championship game against John Curtis. Thomas doesn't have any major offers and is clearly a fall back option for LSU. Does the fact that he is no longer visiting mean that LSU feels good about where they stand with Fobbs?
The biggest surprise this week was the news that Georgia defensive lineman J.C. Copeland will be visiting LSU. Copeland has been a commitment to Tennessee for some time but started to look around after Lane Kiffin left to go to USC. He is a teammate of LSU commitment Brandon Worle and is excited about the possibility of playing with Worle in college. Copeland was going to visit South Carolina this weekend, but LSU convinced him to come to Baton Rouge instead. It looks like LSU has a real shot here. Copeland looks like a hell of a prospect too. Here is some video of him in action:
Evangel High School defensive tackle Brandon Jackson is also visiting LSU this weekend. Jackson has been a Texas A&M commitment since April, but is strongly considering LSU. LSU just recently started showing interest in Jackson after Cassius Marsh de-committed to attend UCLA. While Jackson is a fall back option, he's no slouch. He had offers from Arkansas and Tennessee and was receiving strong interest from Alabama, taking a visit there a couple of weeks ago. In my view, Copeland is the superior prospect and it's unclear whether LSU would take both guys.
South Carolina linebacker Justin Parker remains a possibility. He maintains that LSU and Clemson are his leaders, but all signs seem to be pointing towards Clemson right now.
Virginia defensive lineman Ego Ferguson is also a possibility. LSU is still in contention. He is visiting Miami this weekend, where his mother lives. He had a very strong visit to Florida State last weekend. Because of those two things, most are beginning to believe that Ferguson will be playing somewhere in the state of Florida. LSU has more than a puncher's chance here though.
There's nothing going on with Thibodaux receiver Trovon Reed. He seems solid to Auburn.