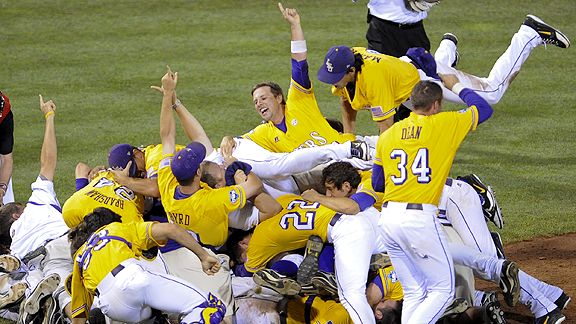 Boy, This is fun! I really enjoy putting my thoughts down just 30 minutes after winning a national championship. It's a bit tougher after 7 Abita Wheats but I'm going to try and focus here. I'm not even sure where to start really. Going into the Final Series, Tiger fans had a ton of confidence because of their ability to pitch both Louis Coleman and Anthony Ranaudo. Both ended up delivering sub-par performances in their starts against Texas, but LSU went ahead and won the national championship anyway.

LSU delivered a total team effort in the College World Series. The Tigers hit 13 home-runs during their 6 games in Omaha, and they were hit by 8 different players. Things weren't much different from the mound. LSU needed 5 wins to secure their 6th national championship. Anthony Ranaudo started 3 of those wins, and Louis Coleman started the other 2. While things weren't always pretty, those two guys showed a ton of guts and they did what they needed to do. Matt Ott and Chad Jones were spectacular in relief as well.


What can you say about LSU's freshman center fielder? Mikie Mah-TOOK a title away from the Longhorns (that was clever!). He knocked in the winning run in both of LSU's victories, and he also played some great defense in the outfield. For a freshman, he showed gobs of courage by fighting off some poor at-bats to come back and get the big hit in crunch time.

Speaking of great defense, how about Derek Helinihi? I'll admit that I was down on the guy for most of the College World Series. He only had 1 hit in 23 at bats in Omaha for a pretty awful .043 batting average. However, if you consider a hit prevented on defense the equivalent of a hit on offense, then Helinhi would be hitting around .350 for the CWS. His outstanding defense at third base probably saved at least a half-dozen hits and he deserves credit for that. He also gets a tip of the cap for knocking in a run with a sac fly Wednesday night on a hit that I thought was out of the park. I'm sure half half of Louisisna jumped off their couch when he hit that ball to the warning track in left field during the 6th inning.

Sean Ochinko, after earning a spot on the pine in Tuesday's game, responded with a 4 for 5 night with 3 RBIs and a home-run. Sean picked a great time to have a career night at the plate.

While I've talked about a couple of less obvious heroes, the likely suspects deserve their credit too. Ryan Schimpf blasted 3 home runs in Omaha. Blake Dean had 2. Jared Mitchell had 2 HRs including the big 3-run blast to get things started Wednesday night. Mitchell was great during the CWS. And DJ Lamahieu did nothing different than he's done all year, which was to be a consistent, very good hitter.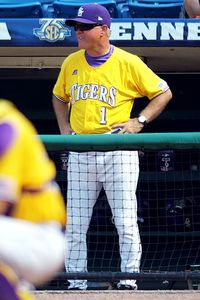 Lastly, what can you say about coach Paul Maineri? Until the very end, he was always willing to make changes to benefit the team. Monday and Tuesday, Jared Mitchell hit 6th in the order and Micah Gibbs hit 4th. On Wednesday night, Maineri moved Sean Ochinko to 4th and Mitchell to 5th. What happens in the first inning? With 2 outs, Ochinko gets a single and Mitchell blasts a 3-run homerun. Uhhh...good call Coach! Ochinko goes on to have a career night in the most important game of his career. Maineri also stuck with his ace pitcher, Anthony Ranaudo. I'm not sure how many times I said "pull him" when Ranaudo looked done in the 3rd and 4th innings. But Maineri stuck with him and Ranaudo grinded out several very important outs before finally giving way. Chad Jones was just awesome in relief, and his performance really squashed the hopes of any Texas comeback. He threw 5 outs of dominating, perfect baseball and when he was done with the Longhorn hitters, the whole burnt orange dugout was hanging their head. The game was over at that point.

This LSU team started this season ranked #1 in the nation, and they'll finish the same way. They began the year with a 9 game winning streak and they ended it by winning 15 of 16 and 27 of their last 32. In between those two great stretches of baseball were some tense times, but we now know that Coach Maineri was simply working out the kinks and getting things in order. In 3 short years, Maineri has proven himself to be exceptional at making the right moves at the right time. There's no question that he's earned the benefit of the doubt from LSU fans. Hopefully, he'll still be able to point out similar changes in the future, but it might be a bit more difficult with a big heavy ring on his finger.

Simply put, it was an exciting and thrilling summer following this team. THANK YOU to Coach Paul Maineri and the 2009 LSU Baseball National Champions!!




Now what happens after a national championship? You want the loot, right? Well you really need to check out my sponsor, Geaux Tigers Art! For years they've been the best site for LSU artwork, but they're really ahead of the game for LSU's 6th baseball national title. Geaux Tigers Art will be the best place to get a framed print of the Advocate cover, and it's also a great time to get Tony Bernard's latest rendition of the last game at the old Alex Box stadium (below). Give them a click and check them out. Geaux Tigers Art continues to be the best place on the web for any LSU artwork.